The Chartered Institute of Management Accountants (CIMA), founded in 1919, is the world's leading and largest professional body of management accountants, with over 229,000 members and students operating in 176 countries, working at the heart of business. CIMA members and students work in industry, commerce, the public sector and not-for-profit organisations. CIMA works closely with employers and sponsors leading-edge research, constantly updating its qualification, professional experience requirements and continuing professional development to ensure it remains the employers' choice when recruiting financially-trained business leaders.
Professionalism and ethics are at the core of CIMA's activities with every member and student bound by robust standards so that integrity, expertise and vision are brought together.
CIMA has formed a joint venture with the American Institute of CPAs (AICPA) to establish the Chartered Global Management Accountant (CGMA) designation. CGMA is the global quality standard that further elevates the profession of management accounting. The designation recognises the most talented and committed management accountants with the discipline and skill to drive strong business performance.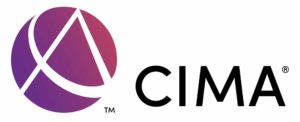 What is management accounting?
Management accounting combines accounting, finance and management with the leading edge techniques needed to drive successful businesses.
Chartered management accountants:
 Advise managers about the financial implications of projects.
Explain the financial consequences of business decisions.
Formulate business strategy.
Monitor spending and financial control.
Conduct internal business audits.
Explain the impact of the competitive landscape.
Bring a high level of professionalism and integrity to business.
The management accounting skillset
CIMA members are qualified to work across an organization, not just in finance. In addition to strong accounting fundamentals, CIMA teaches strategic business and management skills:
Analysis – they analyse information and using it to make business decisions.
Strategy – they formulate business strategy to create wealth and shareholder value.
Risk – they identify and manage risk.
Planning – they apply accounting techniques to plan and budget.
Communication – they determine what information management needs and explain the numbers to non-financial managers.
CIMA and ICAI sign memorandum of understanding
CIMA and the Institute of Cost Accountants of India (ICAI) signed a historic memorandum of understanding (MOU) on 31 January 2015, to allow mutual advanced entry for members of both professional bodies.
Proven members of ICAI would be offered an exclusive pathway route by CIMA, and allowed exemptions for 16 papers – CIMA Certificate in Business Accounting (five exemptions) and Professional Qualification (11 exemptions), leading up to the strategic case study exam. An ICAI member would have to take only exam, the strategic case study, to complete the professional qualification.
On passing the strategic case study, proven members of ICAI will need to demonstrate three years' relevant experience (as specified in CIMA's PER) to obtain CIMA membership and be awarded with the prestigious, globally acclaimed title of Chartered Global Management Accountant (CGMA).