Cambridge IGCSE is the internationally most popular curriculum for 14-16 year old, leading to globally recognized and valued Cambridge IGCSE qualifications. The term "IGCSE" is the registered trade mark of the University of Cambridge .The curricula of IGSCE is designed to make students proficient and qualified in every subject.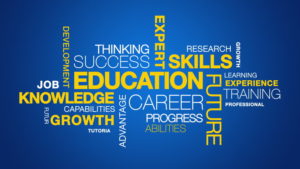 Cambridge Secondary 2 is typically for learners and this stage includes Cambridge IGCSE and Cambridge O Level. Both are globally recognized qualifications.
A student who has passed IGCSE is eligible for any +2 level qualifications, like Class 12- CBSE/ ICSE or any international pre-university program, like the IB Diploma, Advanced Placement Diploma (US), and A/AS Level & AICE (UK).
IGCSE offers a wider range of subjects and encourages high academic standards through a practical approach to teaching and learning. Assessment is not limited to conventional written papers and they consist of a variety of tests e.g. oral and listening tests.
The assessment is aimed at a wide ability range of students, with an eight-point grading scale, from A+ to G, with A+ being the highest. IGCSE is a balanced curriculum and a flexible course of study. Most subjects offer a choice between core curriculum and extended curriculum. This gives students of all ability levels the freedom to choose subjects that are right for them and, thereby, the opportunity to score good grades. The core curriculum is an overview of the subject and is suitable for students who are expected to achieve grades C to G. The extended curriculum is, sort of, a specialization in that subject. It is more challenging and designed for students who are expected to achieve grades A+ to C.
Currently, IGCSE is a two-year program starting at the Class 9 level. A student who has done his/ her early schooling from any other board can join the IGCSE program at the Class 9 level. The IGCSE prepares students for further academic study including progression to AS Level and A Level study, Cambridge Pre-U, IB Diploma Program and other equivalents. It is recognized by academic institutions and employers around the world.
Ritz Management Academy is an academy built on excellence. Our focus is to build confidence and a result oriented system for our students. Our Tutors are confident and dedicated to personalized learning. Our Tutors are highly qualified and experience teachers who are passionate about their subject and keen to share their skills and knowledge. Ritz Management Academy tutors motivate and try their best to create interest towards the subject in the minds of the students. We have a reputation of having helped over hundreds of students to improve their grades, raise their test scores, build their academic self-confidence, and reach their full potential by providing the right skills for success. Our extensive experience with the curriculum and unique teaching methods allow students to improve confidence, develop higher self-esteem and achieve better grades.
Ritz Management Academy aim at being the educational leader in Bangalore in providing Group class and One-to-One customized sessions between the tutor and student. We help in closing the gap between what a student is achieving and what he/she has the potential to achieve.
ADVANTAGES OF IGCSE
1. 1. IGCSE is one of the most sought-after and recognized qualifications in the world. It develops and encourages vital educational skills, including oral skills, investigative skills, problem solving, teamwork, recall of knowledge, and initiative. 1. 2. The IGCSE program has worldwide status and credibility worldwide; it is delivered in schools in over 140 countries and is recognized by colleges and universities everywhere, more so in the UK and other Commonwealth countries. 1. 3. The IGCSE curriculum is balanced and lends an international perspective to studies. It also takes account of differing abilities of students. 1. 4. IGCSE students can take advantage of the Cambridge Checkpoint, a diagnostic service comprising of standardized tests, that pin-points a student's strengths and weaknesses in key curriculum areas. The Cambridge checkpoint is used to • Test learner's strengths and weaknesses on entry to a school/course of study • To inform learners/teachers/parents/ about the suitable exam strategies for students, for example to provide information about which Cambridge IGCSE tier to prepare for • To act as a basis for action planning between student and teacher.
Cambridge IGCSE Mathematics enables students to gains skills that gives students excellent preparation for further study. IGCSE A. MATHEMATICS IGCSE Additional Mathematics covers the basic requirements of higher level Mathematics in IB Diploma. This provides a solid foundation and develops students' potential to understand different perspectives of problem solving and to make reasoned responses This is for students who want to develop and stretch themselves in mathematics. It uses skills in the context of more advanced techniques.
Among the many aims of IGCSE Physics, one of the most notable is that the student should be able to gain an understanding that the study and practice of science are affected and limited by social, economic, technological and cultural factors. It is an excellent foundation for advanced study in pure sciences, in applied science or in science-dependent vocational courses
The aims of IGCSE Chemistry is for students to better understand the technological world in which they live, and take an informed interest in science and scientific developments This would also allow the students to develop an understanding of the scientific skills essential for further study at A Level, skills which are useful in everyday life
As with the other Sciences, the aims of IGCSE Biology is for students to better understand the technological world in which they live, and take an informed interest in science and scientific developments. This would also be a very good foundation that will allow the students to develop an understanding of the scientific skills essential for further study at A level/ IB Level, skills which are useful in everyday life.
The Economics syllabus will develop an understanding of economic terminology and principles and of basic economic theory. Students will learn about the economics of developed and developing nations and how these interrelate. They will also learn to handle simple data and undertake economic analysis, evaluate information and discriminate between facts and value judgments in economic issues.
The Cambridge IGCSE Business Studies syllabus develops students' understanding of business activity in the public and private sectors, and the importance of innovation and change. Students find out how the major types of business organization are established, financed and run, and how their activities are regulated. Factors influencing business decision-making are also considered, as are the essential values of cooperation and interdependence.
Accounting syllabus introduces students to the theory and concepts of accounting and the ways in which accounting is used in a variety of modern economic and business contexts. Learners focus on the skills of recording, reporting, presenting and interpreting financial information and build an ideal foundation both for further study and for a future career within the profession. Information and Communication Technology The Information Communication Technology syllabus combines theoretical and practical studies focusing on the ability to use common software applications, including word processors, spreadsheets, databases, interactive presentation software, e-mail, web browsers and website design.